Rent an accommodation in Pradons in Ardèche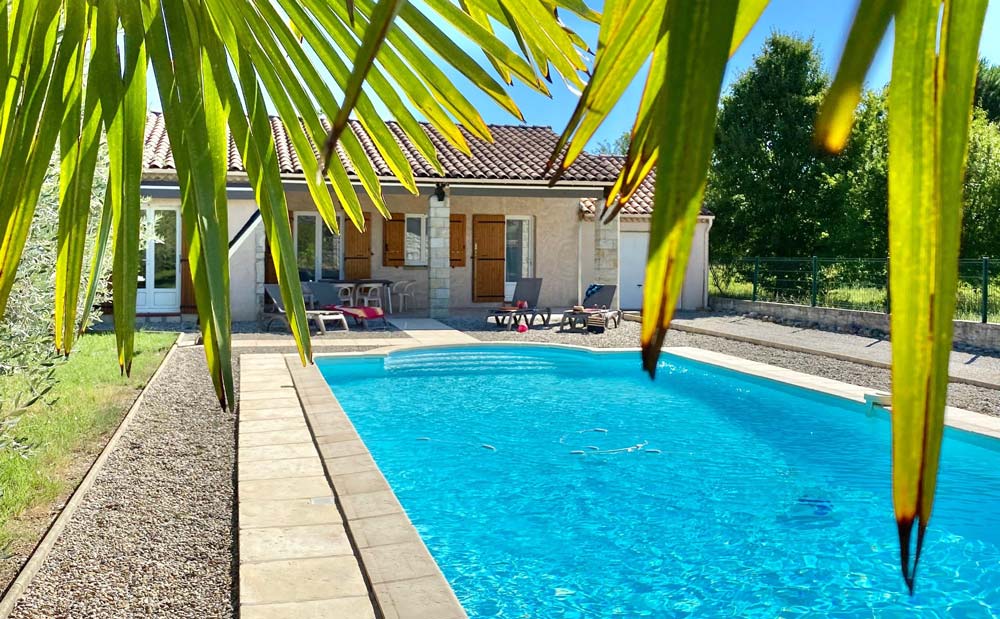 Premium Villa – Air conditioned – Large private pool – 3 Bedrooms – 2 Bathrooms WC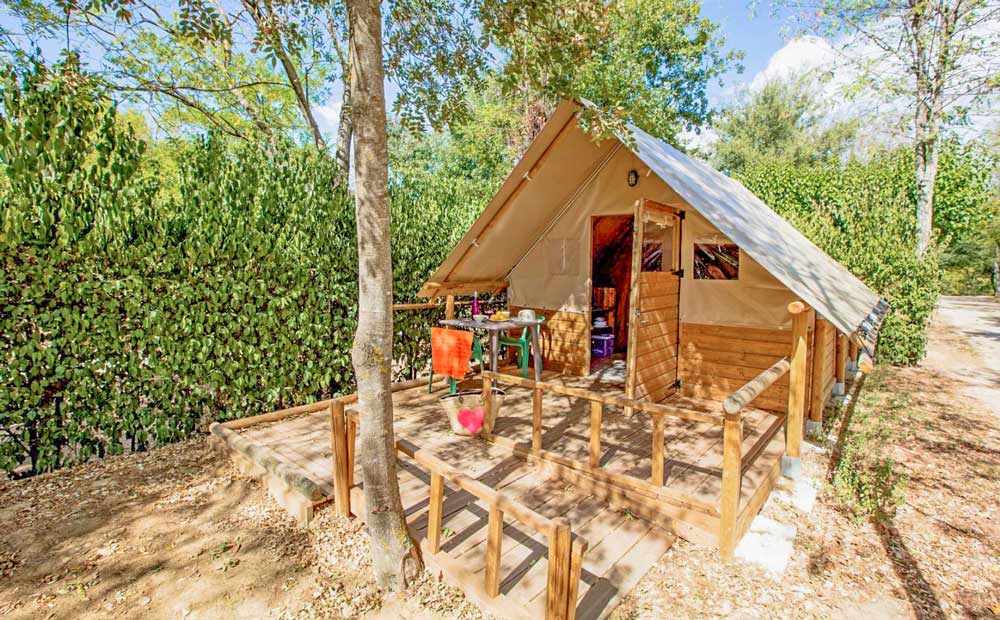 Canadian tent with terrace 2pers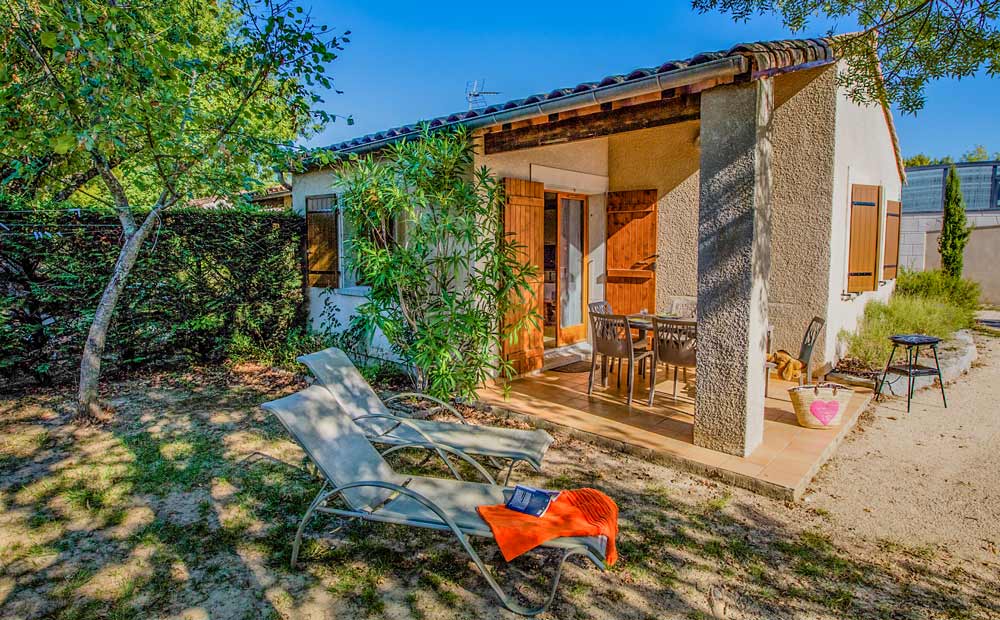 Maisonnette All Comfort – Air conditioning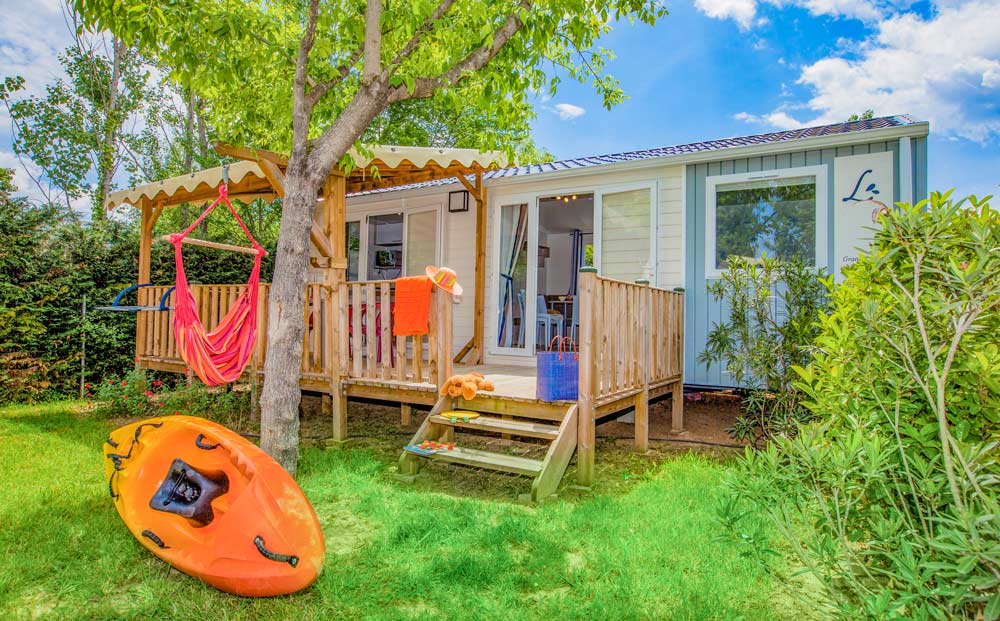 Mobile home Premium – Covered terrace – Air conditioning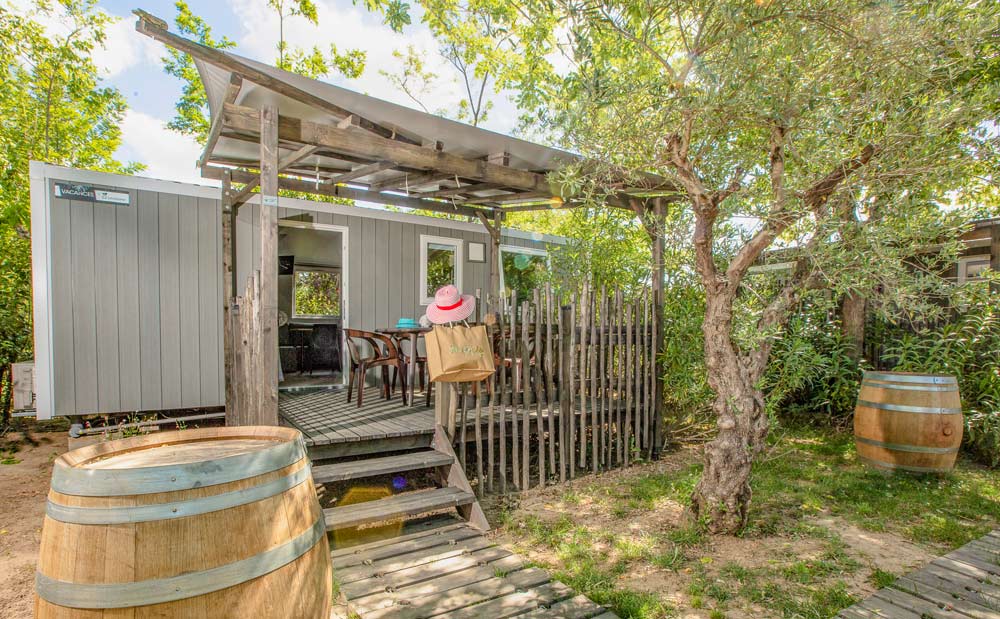 Mobile Home Chardonnay – Covered terrace – Air conditioning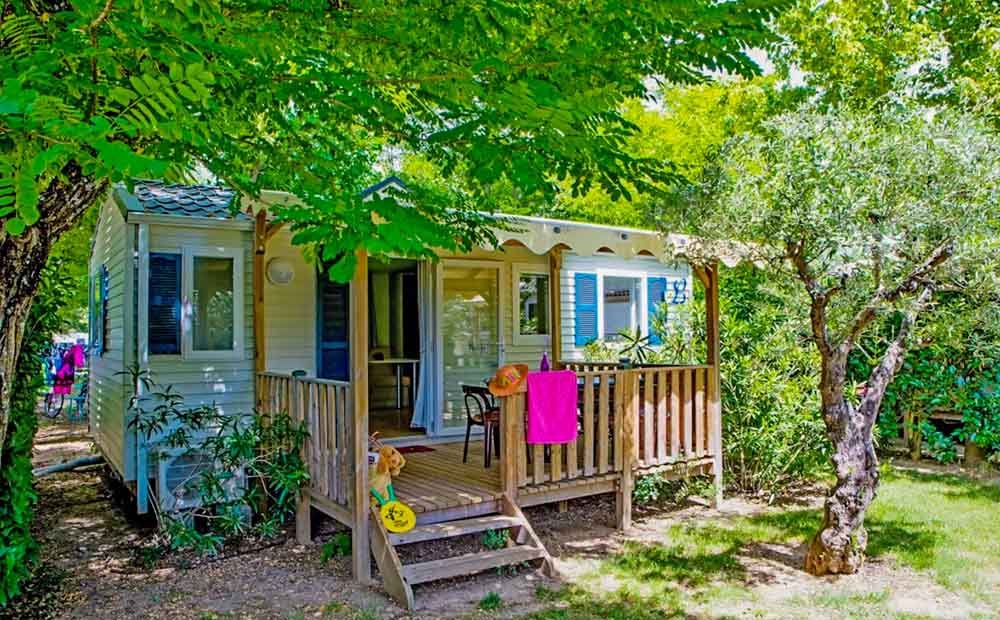 Mobile home Grand Confort – Covered terrace – Air conditioning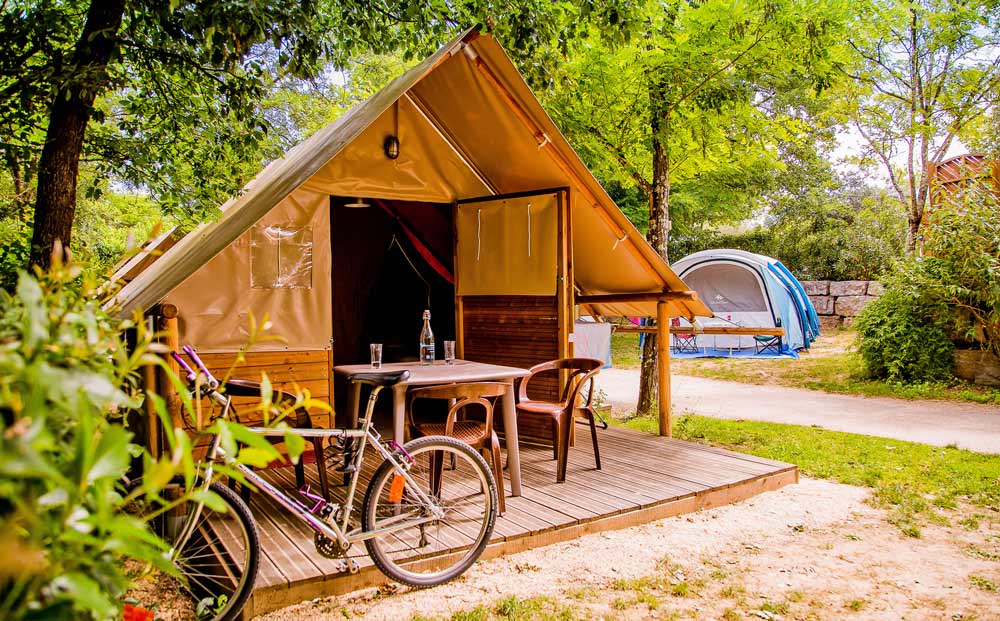 Canadian tent with terrace for 2-3 people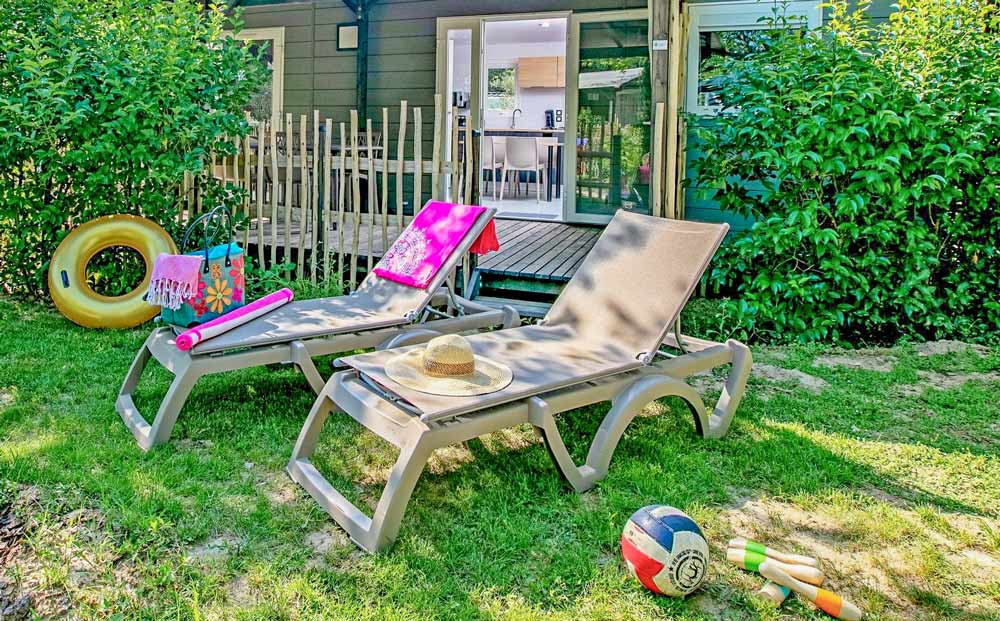 Mobile Home Lavandin – 2 Bathrooms – Covered Terrace – Air Conditioning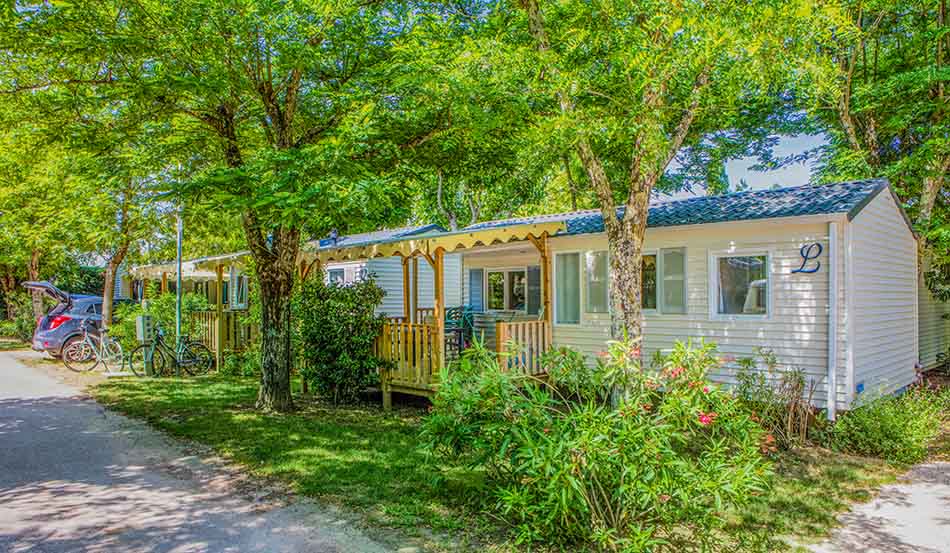 Mobile home Olivier – Covered terrace – Air conditioning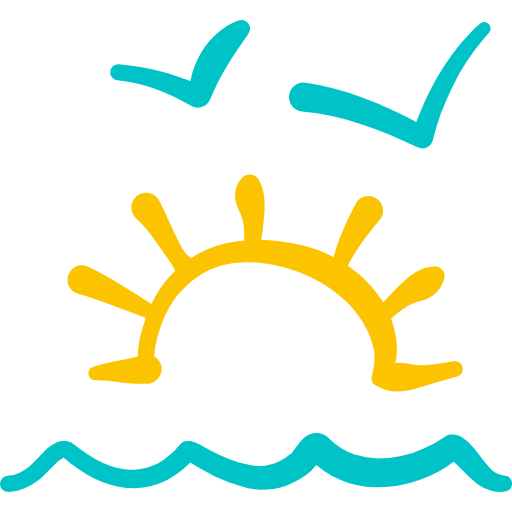 You can choose your holiday!
At Camping les Coudoulets you can choose between different types of accommodation for your holiday.
5 types of mobile homes (Grand Confort, Premium, Chardonnay, Olivier or Lavandin) (4/5 persons), but also the rental of Maisonnettes (4/6 persons) all equipped and entirely renovated, or the rental of Canadian Tents (2/3 persons) without bathroom facilities.
New in 2022 : we offer you a Villa (4/6 persons) with private pool!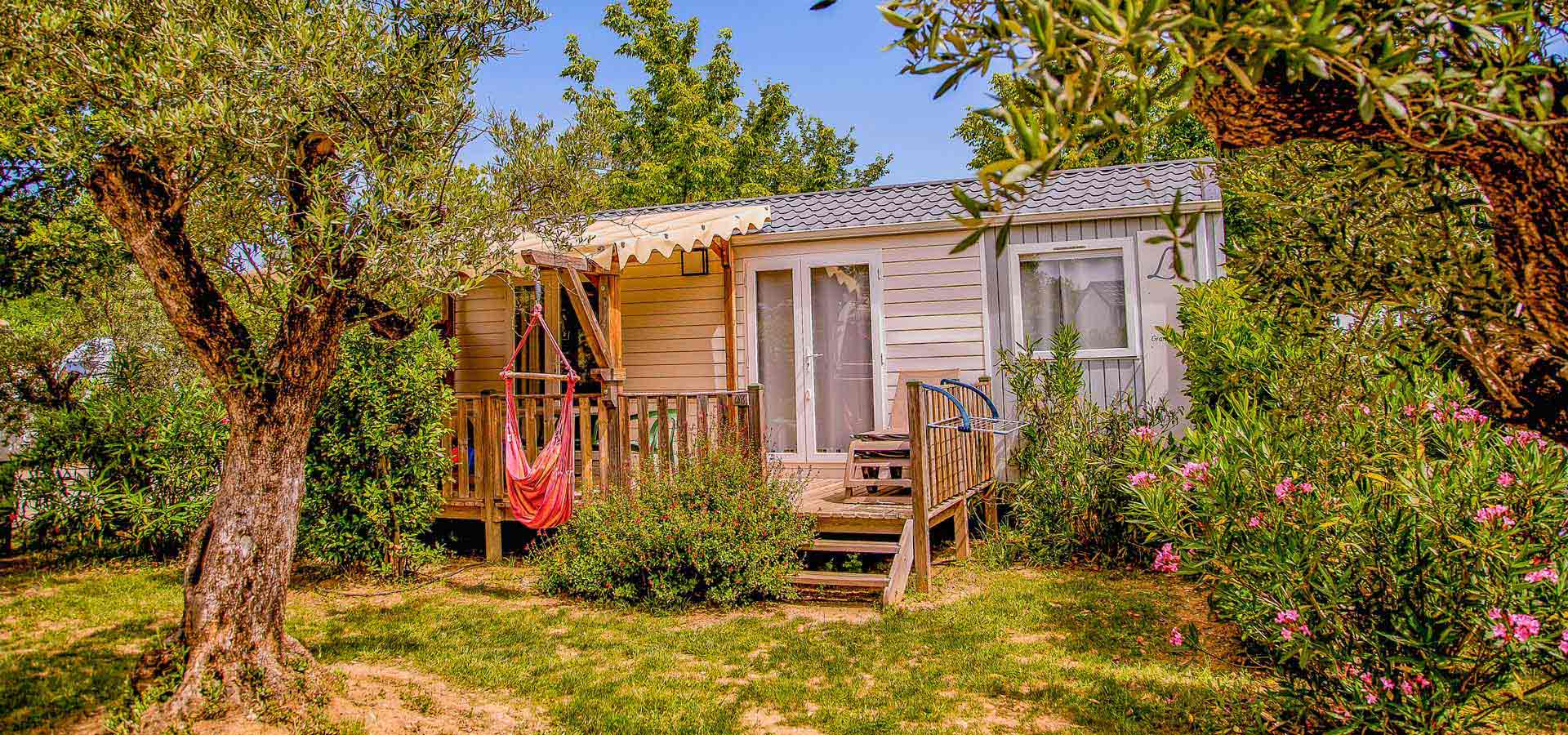 Stay in our comfortable mobile homes in the Ardèche
To combine modern comfort with a stay in the heart of nature, the campsite Les Coudoulets offers fully equipped mobile homes for rent on a weekly basis. Take advantage of spacious and recent accommodation for your next holiday in the Ardèche!
Les Coudoulets campsite offers 47 Louisiane mobile homes and pitches for rent.
The mobile homes are ALL between 0 and 6 years old and are all air-conditioned. With 2 separate bedrooms, for 4 to 5 people, they all have a covered terrace with garden furniture and a fully equipped kitchen with microwave, fridge freezer, dishwasher and television.
Our mobile homes are located on green, grassy plots, with flowers and shady old trees. These pitches for mobile homes are like gardens, allowing you to spend a stay in the open air: they can accommodate a deckchair or a hammock to relax, and are perfect for outdoor games for children. For your comfort, all our mobile homes are air-conditioned.
Our wide range of mobile homes for rent in Pradons
Our mobile homes are suitable for family holidays. The different types of mobile homes have 2 bedrooms and can accommodate 4 to 5 people: the first bedroom is furnished with a double bed, and the second with two or three single beds.
Each mobile home also has one or two bathrooms and separate toilets. A fully equipped kitchen offers you total independence during your stay: it includes 4 cooking rings, a coffee machine, a microwave oven, a fridge-freezer and a dishwasher. The rental accommodations also have a television set.
Five ranges of accommodation are available:
The Grand Confort mobile homes offer an all-inclusive surface area of 38 m2. They have plenty of practical storage space.
The Premium accommodations are designed to offer even more interior space: perfectly suited for family holidays with several children, they have a surface area of 45 m2 including terrace.
The Chardonnay mobile homes are equipped with 160 cm beds.
The Oliviers mobile homes, located in the alley of the same name, are the most recent and are 45m² including terrace.
The Lavandin mobile homes have two bathrooms and two separate toilets and have a surface area of 49 m² including terrace.
All the mobile homes of Les Coudoulets are very recent: you will therefore find in the accommodation a modern and refined decoration, as well as high quality equipment in perfect working order.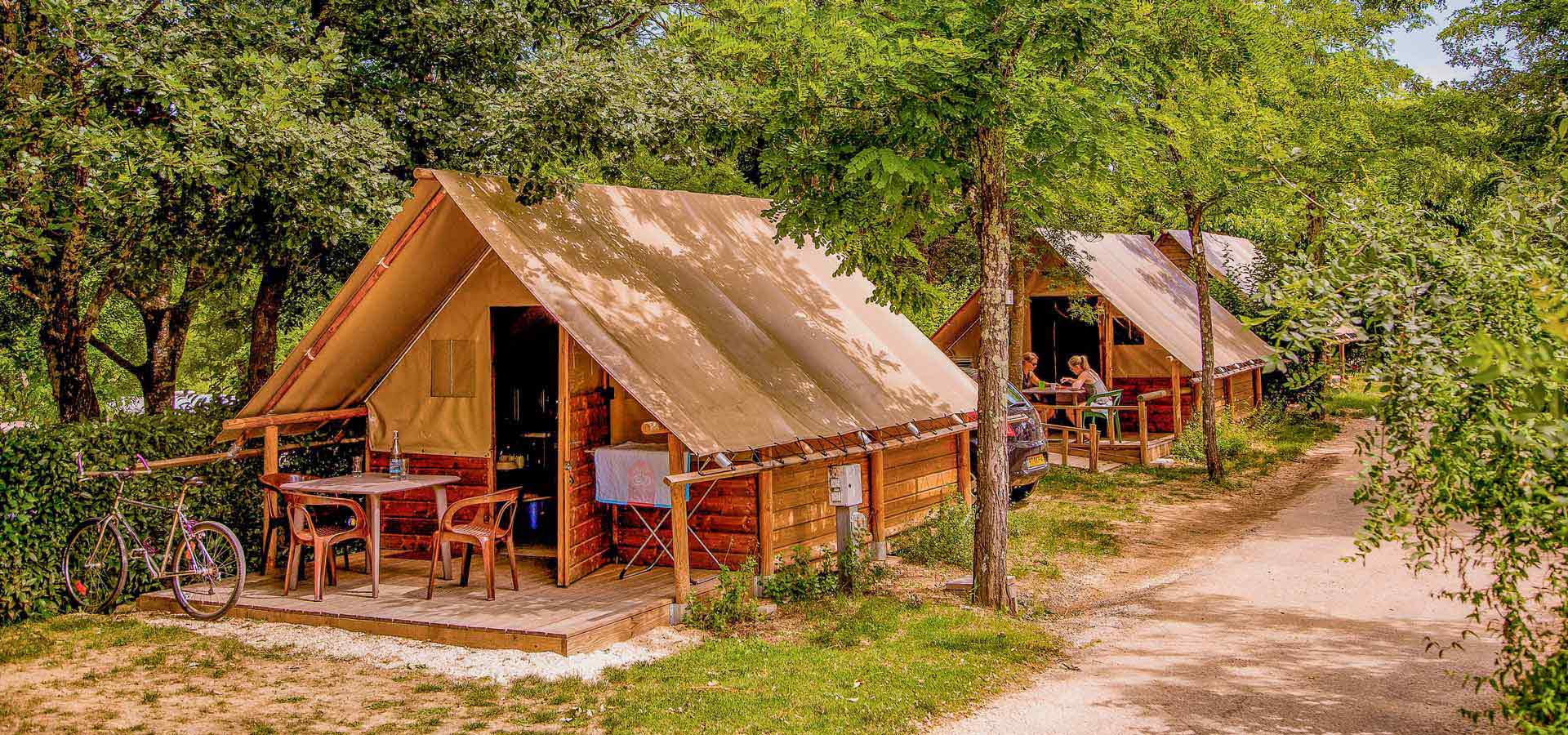 Our Canadian tents: fully equipped atypical rentals
Les Coudoulets campsite offers fully equipped 4-star atypical accommodation in the Ardèche. Our aim is to offer you a pleasant stay with your family or friends. You can rent your own Canadian tent for your stay at the campsite. The Ardèche region of France is an ideal place for a family holiday.
Whether you are looking for an atypical or fully equipped rental, we can help you find the ideal accommodation in the Ardèche.
We know how important it is to get away from the hustle and bustle of everyday life, so we make sure our facilities are clean and comfortable so you can relax and enjoy your holiday!
Stay for 2 to 3 people in a lodge tent in the Ardèche
At Camping les Coudoulets you can rent our 2 Canadian tents for 2 to 3 people maximum (including children and babies).
Spacious, it offers 23 m² including a nice terrace with a table and garden chairs, ideal for the beautiful days.
Our rentals are equipped with a bedroom and a sofa bed. The kitchenette is very practical with a microwave, a fridge, 2 hotplates and a coffee machine. The lodge tent does not have a bathroom or toilet, but is located very close to the sanitary facilities.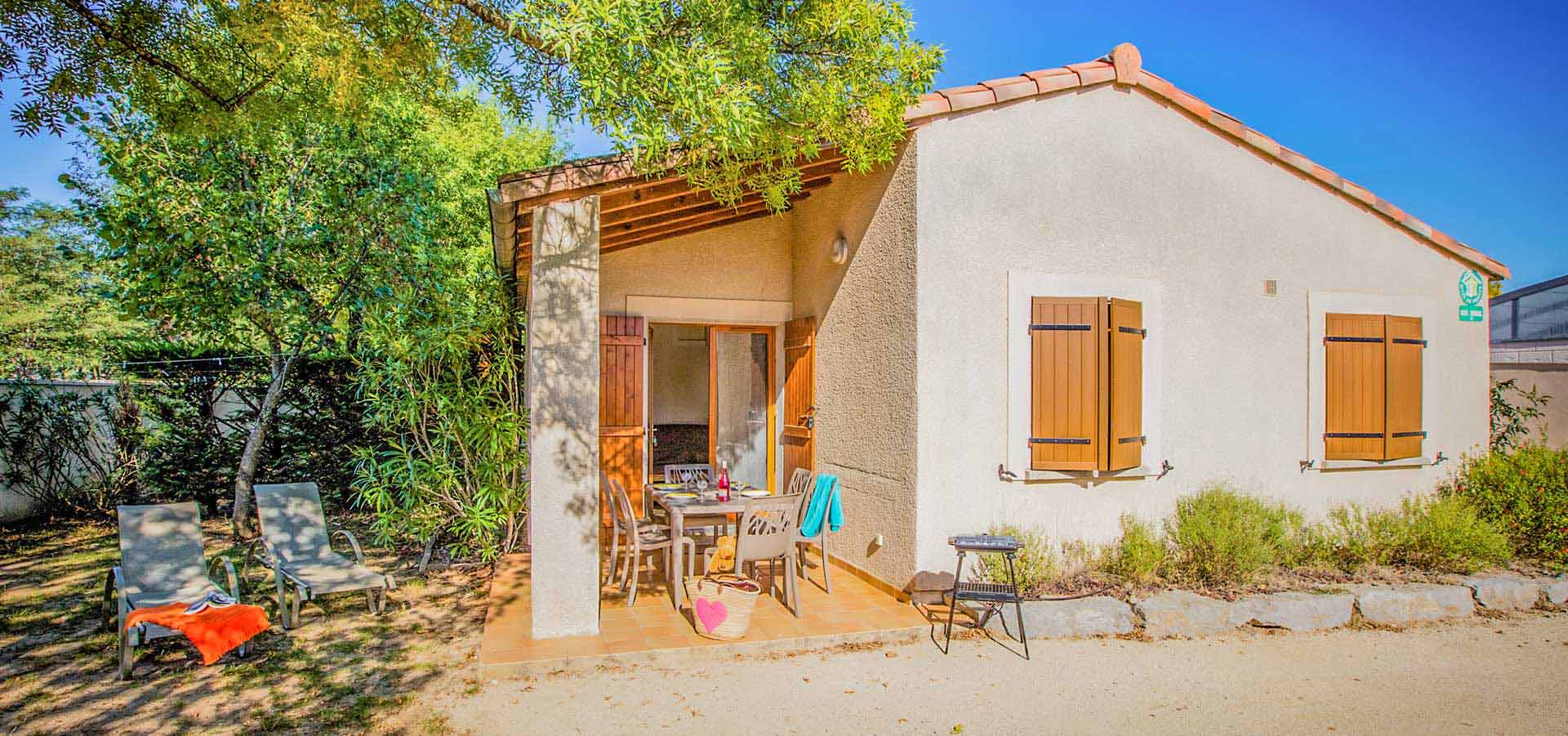 Rent a fully equipped cottage for your stay in the Ardèche
Our "maisonnettes grand confort" have two bedrooms, a fully renovated and equipped kitchen (microwave, fridge-freezer, electric cooker, dishwasher, coffee machine), a bathroom (shower, washbasin), washing machine and separate toilet, a living/dining area with a sofa bed, a television, a terrace with garden furniture.
The houses are equipped with convertible air conditioning.
Our maisonnettes, a rental for 2 to 6 people
Would you like to feel at home during your campsite stay? Our cabins are the ideal solution!
Camping Les Coudoulets is a 4-star campsite in the Ardèche. It offers a wide range of accommodation, including maisonnettes. You can rent a maisonnette for 2 to 6 people, which is fully equipped with everything you need for a comfortable stay.

Rent a fully equipped Premium Villa for your stay in the Ardèche
Since 2022, we offer you a Premium Villa with all comforts and a private swimming pool just a few meters from the campsite entrance. You can enjoy all the facilities and services of the campsite while being in your own family cocoon.
The villa is fully air-conditioned and has 3 bedrooms and two bathrooms, a large fully equipped kitchen, a living and dining room and a terrace with garden furniture and a deckchair in front of the pool.
You will feel at home in our rental cottages.
Do you prefer a unique experience? Rent a Canadian tent, it will surely seduce you!